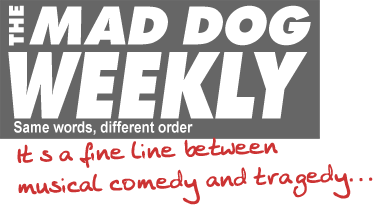 They came out of Richmond, Virginia and had a minor hit in the early 80's with the song "Keep It Tight", a song which appeared on vinyl (remember that stuff?) in at least three versions. The full story of the band can be found in an article which appeared in ThroTTle magazine and should be required reading for every band that wants to make it. Not to mention that it will boost the number of hits to this site.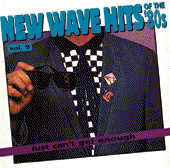 From co-producing the demo tapes that got them their deal with Nemperor/CBS to handling special promotions while they were on tour (like the idea of throwing already filled Single Bullet Theory water guns that matched the ones on their album cover to the audience at shows, a promotional gimmick that was barred by headliners including the Ramones, the Romantics, and the Pretenders) we had a long, fun history together.
But they're not completely forgotten. Trouser Press still remembers them. And "Keep It Tight" can be found on the Rhino Records Compilation, "New Wave Hits of the 80's - Volume 9".
Against his better judgement--and at the risk of conjuring up those recurrent nightmares again--ex-Bullet Dennis Madigan has kindly put together a discography .
Another Richmond-based band, this one put out five albums on Brat Records, a wholly owned subsidiary of Mad Dog Productions. Sounds slick, doesn't it? Starting with the slogan, "By brats, for brats", the company later changed it to: "The record company that should know better." Should being the operative word here. Four of the five albums were produced by Mad Dog. Mad is the operative word here.
Over the years, Suzy Saxon & the Anglos had a number of different members. At the core was Bob Bonham (guitar), Suzy Peeples (vocals), and Rockin' Ray Fralin (guitar), a part-time chicken farmer and full time rocker from Boone's Mill, Virginia. The three of them wrote the music, with Bob being the most prolific. In a songwriting rather than a Bachian way. Bass players for the band included Jon Heckel, John Bollinger, and Mark Cox. Drummers were Dewey Ferguson, Nat Warriner, Paul Fisher and Joe Wharf. Hope we're not leaving anyone out.
At one time the Anglos were being played on 265 college radio stations, spent 4 months on the CMJ Top 100, and had a music video which was seen on the MTV Basement Tapes, MuchMusic in Canada, and in 21 other countries. They still get the occasional royalty pittance for airplay in places like Canada and Sweden. Life is sweet. One of their crowning achievements was opening for George Thoroughgood and the Destroyers at the Richmond Coliseum and living to talk about it.
Hopefully a full discography will be posted here soon. If Bob gets his act together.

In the fall of 1981 an algae bloom appeared on the James River in Richmond. The water turned foul. It was undrinkable. Showers smelled like a swamp. It was nasty.
Mad Dog and Carlos Chafin were recording Single Bullet Theory's demo tapes at Alpha Audio. One night on the way home--very late--they were griping about the water when Mad Dog started singing a version of the Standells 1965 hit, "Dirty Water", substituting the words "Algae Water". Carlos joined in. Back at Carlos' house they sat down with Carlos' sister Gay and his future wife Cathy, and together wrote the lyrics in a few minutes. The next day they brought the Good Humor Band in the studio to record it, making a recording that so closely duplicated the original that Elyse Jennings of XL102 accused them of lifting the vocals from the original song and replacing it with their own. Right.
While it was sent off to be pressed they delivered tapes of the song to local radio stations. It was released on Swampwater Records and Tapes under the band name, Jet Trash. It was backed with a version of "Telstar" which the Good Humor Band recorded under the name Jake No Shoulders and the Third World Briefcase. Don't ask.
The singles were in the store in three days. The song quickly hit #1 and was the top requested song on three Richmond radio stations. It was also the best selling record in town. Life was great until the water cleared up a week later. The follow-up album, "Science Project" was never released. Or recorded for that matter. But it was fun while it lasted.
ALGAE WATER by Jet Trash

TELSTAR by Jake No Shoulders and the Third World Briefcase

Two Fifty Nine Music (BMI) publishes songs by Michael Maurice Garrett and Gary Alan Holmes of Single Bullet Theory fame, along with selected songs by collaborator Lloyd Huckstep.
Liberator Music (BMI) publishes songs by Mic Muller, also of Single Bullet Theory, as well as songs by Janet Martin on her new CD "Cloud Cover" on Planetary Records.
Brat Music (BMI) publishes songs by Bob Bonham, Suzy Peeples, and Ray Fralin of Suzy Saxon & the Anglos.
---